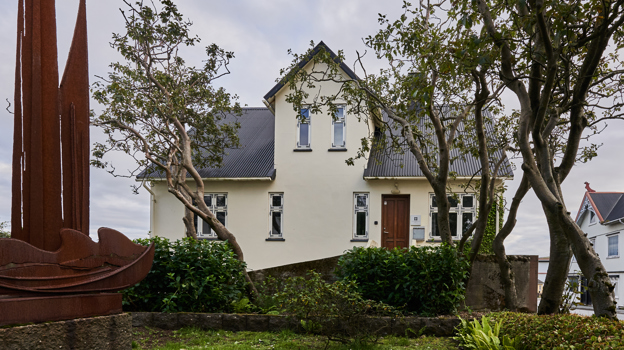 Student Affairs
- Student Affairs and Information
The Student Affairs Centre (LSS for Lestrarskrivstovan) was founded in spring 2015. The unit is part of the central administration. The Student Affairs Centre is in charge of information, guidance, administrative, and academic tasks especially related to the studies of coming, current, and former students and must, alongside other administrative units, work towards a more effective level of service for students, staff, and guests at the University of the Faroe Islands.

The Student Affairs Centre handles its responsibilities in close co-operation with the management and administration at the university, the Student Records Office and archives, the department offices, the student counsellors and programme directors, as well as the Study Board, the Students' Representative Council, IT services, and external IT partners.

The Student Affairs Centre handles practical administrative responsibilities in areas directly related to admission and student affairs – as for instance receiving applications, admissions and registry of students – including cataloguing in the archives and the student records in es that applications are assessed, assesses grades and qualifications of the applicants, orders student ID cards, prints transcript and records for students, documents that students are actively participating in university studies to STUDNI and the National Faroese Transport Company (Strandfaraskip Landsins), collects statistical data, develops administrative procedures and regulations – e.g. for leave of absence, credit transfers, withdrawals from study etc., creates various kinds of guides relevant to the students, updates information on student rights, executive orders etc., organises graduation ceremonies, helps students from abroad with applying for residence permits, organises external examinations for students at higher educational institutions abroad, but who are home in the Faroe Islands – etc.

The Student Affairs Centre co-ordinates the students' guidance at the University of the Faroe Islands and develops various tools and services to ensure that the university's users receive appropriate help and information on affairs relevant to studying. Guidance is provided on studying at home and abroad (including student exchange programmes) and on financial support options thereto.

The Student Affairs Centre markets to and informs the public on education and research at the University of the Faroe Islands.

Additionally, the The Student Affairs Centre provides relevant guidance on quality control tools and procedures, conducts surveys, as well as oversees a contact point for researchers (EURAXESS) and helps researchers from abroad et al., who come to the Faroe Islands to work at the University of the Faroe Islands.