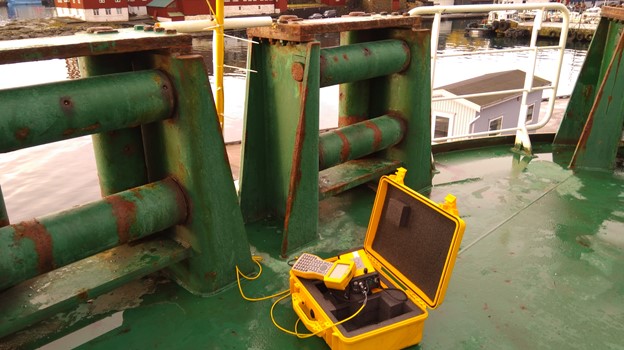 Research in the subject of surveying and geodesy is also underway at the university
(Foto: G.W. Roberts)
Gethin Wyn Roberts, Associate Professor in Geospatial Engineering
06/07/2020
Setrið
Náttúruvísindadeildin
Geospatial Centre of the Faroe Islands
Fróðskaparsetur Føroya has launched the Geospatial Centre of the Faroe Islands - Depil fyri staðsetingarfrøði
This initiative is initially partly funded by both Landsverk and Umhvørvisstovan, and aims to develop geospatial, surveying and geodesy topics to aid industry and society. Umhvørvisstovan recently took over the responsibility of the surveying, mapping, and geodesy of both the land and sea, and this initiative will help to support the takeover. Initially, short courses will be delivered from the end of August.
Research in the subject of surveying and geodesy is also underway at the university. Recently, Gethin Wyn Roberts successfully obtained a research grant from Granskingarráðið. The project is called HeAlth and EnviRonmental MONItoring of Ships and PropEllers (HARMONISE) -
Talgilt eftirlit av standi og viðurskiftum hjá skipum og skipsskrúvum.
Detecting anomalis
Gethin is collaborating with MEST, Havstovan and the Technical University of Graz, Austria, on the research project. The 2-year research project investigates the use of Global Navigation Satellite Systems (GNSS) and Fibre Brag Grating (FBG) technologies to measure the flexing and displacements of ships.
Such measurements can be caused by a number of factors, including the loading due to the tides and waves as well as the ship travelling through the sea, in addition to which, smaller and quicker movements are caused due to the vibration of components within the ship such as the engines and pumps. All this results in the ship having a dynamic characteristic, which if measured can be used to assess the health of the structure.
Previous work, using GNSS to measure the flexing and displacements of long-span suspension bridges have shown this approach to be valid, through measuring the displacements of bridges down to millimetre level at a rate of up to 100Hz. The results are viewed in both the time domain and the frequency domain. Changes in both characteristics can be used to detect anomalies.
Further, previous work has been conducted using FBG to measure long term deformations of static structures such as tunnels and roads.
Noise of propellers
This project takes previous approaches and technologies to be applied in a new direction.
The hypothesis is that long term deteriorations or sudden changes of ships can be detected through changes in the results of such monitoring. Further, the project investigates the use of such technologies to measure the noise of the propeller into the ship.
This can be used to detect damage to a propeller either caused from the propeller having been struck and bent, or small pitted holes developed over time, both of which cause noise.
The advantages of being able to detect such vibrations and noise is twofold. Firstly, fishing vessels can be repaired so that they noise level is reduced, and hence less fish are scared away, hence increasing the yield. Secondly, the project could result in environmental advantages. Noise on such ships can be detected, and once repaired, the ships will impose less noise pollution into the sea environment, and disturb the wildlife less, especially whales.