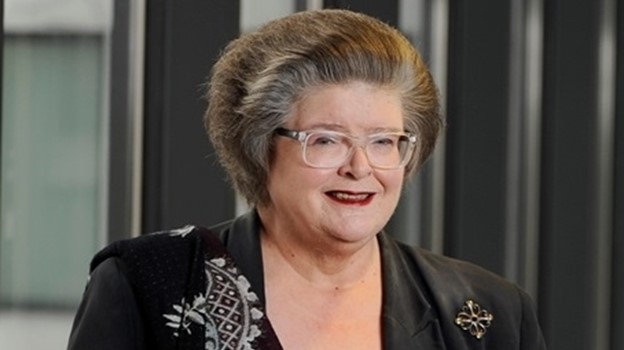 Jens Christian Svabo Justinussen
09/05/2016
Søgu- og samfelagsdeildin
Alyson Bailes Obituary
Alyson Judith Kirtley Bailes, diplomat and political scientist, who frequently visited the University of the Faroe Islands, has passed away, aged 67.
It is with great sadness that we mourn the loss of Alyson Bailes, who died at the age of 67. Over the last decade, the University of the Faroe Islands was privileged to have Alyson frequently visit as a guest lecturer. She also collaborated with several of our researchers on International Affairs, Security and Small States.
Alyson Bailes graduated from Somerville College, Oxford, in 1969, and went straight to the British Foreign Office, where she worked for 33 years. During her distinguished career she was posted in Hungary, West Germany, China, Norway, Belgium, and she was one of the first female British Ambassadors (Finland). She also served as the Director of Swedish International Peace Research Institute (SIPRI), was an Adjunct Professor of Political Science at the University of Iceland, taught at the College of Europe in Bruges, was a Fellow of Chatham House, and an Honorary Fellow of Somerville, Oxford. She was a polyglot - and a great fan of the Faroese heavy metal band TÝR.
Alyson honed her practical experience in diplomacy during the cold war era, learning to navigate between the superpowers, and witnessed first hand the brutality of totalitarian regimes in Prague 1968 (she visited there as a student) and the Tiananmen Square incident in 1989. She was also lucky enough to survive an IRA terrorist attack in 1979. After the cold war ended, Alyson was actively engaged in the enlargement of NATO towards the east. As we entered the 21st century Alyson became increasingly interested in the Arctic region and the security issues that came along the massive environmental changes that were becoming more and more obvious. It was through this new emerging field of study, that I first met Alyson. We were introduced by a colleague of mine (Beinta í Jákupstovu), as we were designing a course at the University of the Faroe Islands, which involved Alyson giving a class on security in the Arctic.
Since then, our cooperation and friendship evolved. Over the years, Alyson visited us many times giving lectures, public presentations, and she also worked on publications with several colleagues here. As always, Alyson lifted the intellectual debate up to the higher stratosphere, leaving the students and participants invigorated and enriched. Not only was she a brilliant scholar and an experienced diplomat, but she also was a true mensch. At the same time there was an ever-present sense of humor and fun around her. I remember vividly when Alyson discussed soft power with our students, and suddenly she went on a longer explanation on the soft power of TYR.
Over the years I had the privilege of arranging lectures and presentations with Alyson at our University. One thing that always made an impression on me was her open attitude towards the students. No matter what level, and no matter what they presented to her, she took the students ideas and thinking seriously. The students would always leave the class enriched, with new ideas and ways to develop their own thinking further. But they also felt smarter, and more confident. They had been encouraged by a true master teacher.
I feel deeply honored to have had the chance to know Alyson. She will always be a great inspiration.