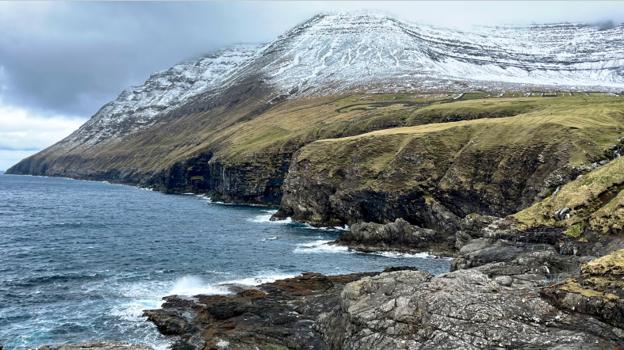 Marianne Knudsen, NordForsk
22/05/2023
Setrið
It takes more than stormy weather to knock the Faroese off course
A Nordic research project predicts that storms will hit the Faroe Islands with unprecedented strength. They have worked with the local population on emergency planning, which has been an eye-opener for both parties
Grey clouds hang heavy over the snow-capped mountain peaks. White foam floats on the water, making ripples when it hits the rocks. As the bus exits the tunnel, scattered houses suddenly emerge. Viðareiði, the northernmost settlement in the Faroe Islands, is surrounded by mountains to the south and north. There are holes on the white wooden fence around the mayor's house and in the town's only hotel, two window panes have been replaced with wooden boards. A third building has stretched a green net over the roof where roof tiles have been blown off.
There are clear traces of the most recent storm to hit Viðareiði in February 2023. But here the town's 350 inhabitants, like most Faroese, are used to adapting to the weather and wind.
"If the wind is 20 to 25 metres per second, we don't even think about it. If it's more than 30 metres per second, people start talking. Everyone listens to the weather forecasts on the radio, which warns them of approaching storms. The municipality informs the population and encourages everyone to secure loose objects," says the city's mayor, Marita Sumborg.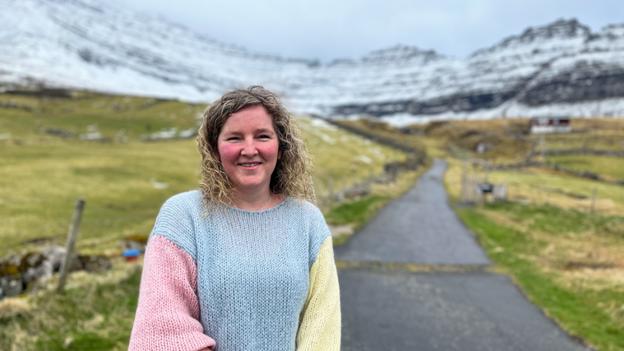 Marita Sumberg is mayor of the town of Viðareiði on the island of Viðoy. When she isn't working as mayor, she's a nurse in Klaksvik
More powerful storms on the way
It's nothing new that the Faroe Islands regularly experiences strong winds. The windswept islands have always been exposed to strong winds, and in many cases the population knows what to do when stormy weather hits.
"The Faroese know everything about extreme weather, so they're used to staying indoors during the storms. They know their own area and know what to do. What they're perhaps not as prepared for is the intensity of future storms. They'll become so powerful and surpass the intensity for which the houses, roads and bridges are built for. Storm events will also be more frequent, so the whole infrastructure has to be adapted to their strength and frequency. A storm isn't just a storm anymore."
This is what Rico Kongsager, Associate Professor in Emergency and Risk Management at University College Copenhagen, warned a few years ago in the news article Storms can hit the Faroe Islands with unprecedented strength. He's leading the project Climate Change Resilience in Small Communities in the Nordic Countries (CliCNord), which is part of NordForsk's research area on societal security in the Nordic countries. The project is looking at how small rural districts in selected areas in the Nordic Region are dealing with various extreme weather phenomena.
Workshop educational for everyone
The project researchers have held crisis management exercises with the local population of the Faroe Islands, including Marita Sumberg from Viðareiði, in order to ready them for future extreme weather events such as storms.
The exercises were attended by police officers, ambulance crews, municipalities and others who hold responsibility when a disaster occurs. The participants were given a fictitious disaster situation and they had to work together to deal with an avalanche incident and a powerful storm.
"It was a very good exercise and an exciting research project. I got to put faces to the names of the people whom I can call if necessary. It'll make it easier for me to act if something happens. I was invited by virtue of my role as mayor because I have a responsibility to make decisions and be available when something happens. I wasn't prepared for that before the exercise, and now I feel better prepared for it."
One of the participants was emergency preparedness manager, Finn Hansen. He is responsible for Klaksvík and the northeasternmost islands, including the island of Viðoy, where Viðareiði is located. In his office at the fire station in Klaksvík, he's the only employee. Two litres of coffee in the pot and six warm rolls have been set out when NordForsk's envoy comes to visit.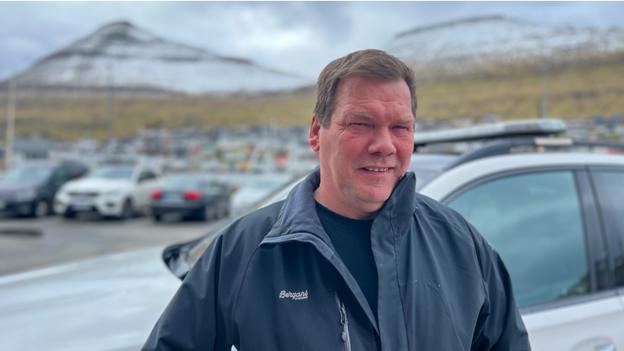 Finn Hansen is emergency preparedness manager for Klaksvík and Norðoyggjar (the northeasternmost islands) - including the municipalities of Fugloy, Viðareiði, Hvannasund, Kunoy and Klaksvík
The phone rings and Finn answers it straight away. He puts the phone down a bit later and looks up: "No action", he laughs. In the next half hour there's a knock on the door. Someone from a church congregation would like to borrow the fire station's fire hydrants. Then Finn's phone rings again. A teacher from the local school would like to take 1st and 2nd graders on a tour of the fire station.
"People call me about all sorts of things," he laughs.
In addition to Finn, there's a large number of volunteers in the area who step in when help is needed, and Finn has cold water in his blood. When there's a storm warning on the radio, the reaction is the same:
"We don't do anything. We're ready. We have wooden boards here ready at the fire station in case a few windows break and we have fishing nets lying around to stretch over the roof if roof tiles get dislodged, so we really have everything we need to help against storm damage. We don't make more out of it than that. I have the phone number ready for the lumber store if we need more boards. If there's a bad storm, I can receive between 200 and 300 calls a day, but luckily it doesn't happen that often," he says.
Although Finn doesn't let himself get carried away by a storm, the research project CliCNord's crisis management exercises were beneficial: "We learnt from each other and could focus on becoming better equipped to work together across the board when a disaster occurs."
For Rico Kongsager, head of CliCNord, working with the locals on the Faroe Islands has given new insights: "Even before our crisis management exercises, they were in good shape in terms of emergency preparedness. In many ways, the Faroe Islands are already prepared for extreme weather events. For instance, in the storm season they're very good at securing houses and loose objects such as trampolines and caravans. So, much of what we'd thought of has already been done. But I think our exercises were very educational because they encouraged them to talk to each other and work together across the board."
NordForsk went to the Faroe Islands to understand the importance of Nordic research co-operation for the Faroese. This is the second part in the series.